Technical Expert of Special printing plate making
Tokushu Abe Seihanjo is the expert of secondary processing and special printing plate making.
We supply not only various products and services, but also quick technical solution by our technique and know-how of over the half a century.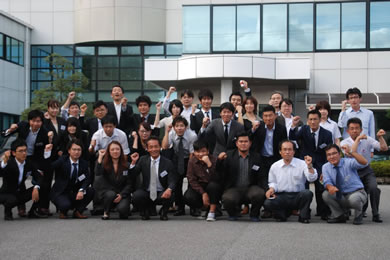 Focusing only special printing
In 1961, company founded that Kazushi Abe started plate-making for dry offset printing in his apartment. Over the half a century, we have been supplying special printing plate and accessories as an expert. Especially Hot stamping, Dry offset printing, and Pad printing are our specialty and innovate these technologies in each area.

Provide steady high quality products
Tokushu Abe Seihanjo was certified according to ISO9001:2008, and provide high quality products steadily. We set our quality standard within ±2μm of etching depth of pad printing plate. This standard will meet customer needs of high precision products.

Solution from plenty of technique
Our business is not only providing products, lectures and other technical services, but also we deal with your requirement of non-decorative inquiry such as conductive pattern formation on concavo-convex surfaces. We help to resolve your technical problems by our wealth know-how of special printing experience.

Continuous development of latest technologies
We are continuously developing new decorating technology with the use of special printing methods and materials of silicone pad for pad printing. It is possible to develop material of silicone pad for your special inks.We respond your needs.

Training system for inheriting technology
Our techniques and know-hows which accumulated over half a century are the property and treasure. For inheriting this technique and know-how for future generation, we are focusing on employee training. We have a philosophy that developing best employees and that will bring customers best products and services.